NU student hits it big in Las Vegas — academically
Anika Loeffler recognized for hospitality research paper
By Timothy Chipp
Niagara Gazette
LEWISTON —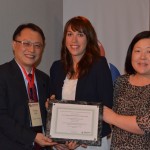 Anika Loeffler didn't know what to expect when she applied to go to school for a year at Niagara University.
The experience would take her a long way from her home at the International University of Applied Sciences in Germany. But once she arrived, she felt right at home among the students enrolled in the Lewiston college's own hospitality program.
"When I came in September, they had a welcome week," she said. "I got to meet everyone."
It wasn't long before Loeffler got accustomed to her surroundings. She visited Niagara Falls, took in the sights and quickly left her mark in the College of Hospitality and Tourism. When the program sent a contingent to the 2012 Korea America Hospitality and Tourism Educators Association conference in Las Vegas, it was Loeffler who shined brightest.
Her research assignment, "A Study of Adopters of Hotel Mobile Applications: A Diffusion of Innovation Theory," was chosen Best Undergraduate Paper, which earned her a small cash prize. But she also gained some experience in front of a crowd she said was valuable.
"It was my first presentation not in front of a class," she said. "It was a very small conference. I didn't get too excited. But it was good experience for the first time."
Loeffler's combined experience at her home school and in Niagara is netting her gains outside of Buffalo as well. She's next scheduled to spend the summer in an internship in the corporate office of the Carlson Rezidor Hotel Group, one of the 10 largest hotel chains in the world, in Minnesota.
The opportunity, she said, came about through the dean of Niagara's program, Gary Praetzel. He has spent years finding the best opportunities for his students, including helping to form the Leading Hotel Schools of the World, which provides international students, not just Anika and the Germans, with opportunities all over the world.
"Hospitality and tourism is the biggest industry in the world," Praetzel said. "It employs about 10 percent of the people. The industry is big globally and it's getting bigger."
He also has an exclusive partnership set up with Rosewood Hotels, which runs, among other establishments, The Carlyle in New York City. His program is the only one the company works with, he said.
As for the German exchange program, this is just the first year for Niagara's participation. But the program has gotten off to a fantastic start, he said, thanks in no small part to Loeffler's presence.
"She had the highest (quality points average) of anyone in the program before ever stepping foot on campus," he said.
### Retrieved from:
http://niagara-gazette.com/communities/x474407213/NU-student-hits-it-big-in-Las-Vegas-academically