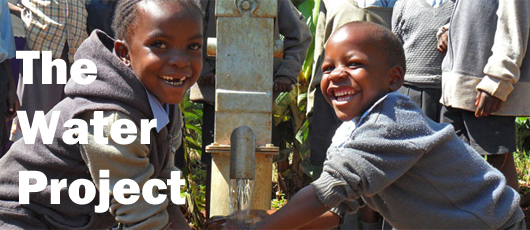 [Click here to visit the project website]
Did you know nearly 1 billion people don't have clean water to drink?
We are helping raise funds to provide clean, safe drinking water to people who suffer needlessly without it in the developing world, and could really use your help!
Our donations will be used to construct a specific water project. We'll get pictures, GPS coordinates, and reports from the field, as they happen. We'll see the actual results of what we've done.
Water is an essential necessity of life! While no one can thrive without access to clean water, it is quite sad to hear that nearly 1 billion people don't have access to clean, safe drinking water. Nearly 1 out of every 5 deaths under the age of 5 worldwide is due to a water-related disease according to WHO (World Health Organization).
KAHTEA kindly would like to ask KAHTEA members and others to get involved in this fundraising event: Water Project for Africa! Let's take the holiday excitement and help us give a memorable gift of clean water to those in need.
Every dollar raised through the KAHTEA campaign page directly goes to the Water Project, Inc., and together we can make a HUGE difference in the lives of others.
Examples of impact:
$20 – One Person's clean water
$100 – Gives a family clean water
$500 – Water for a classroom
$1,500 – Cost of a hand pump
$7500+ – Sponsoring a well
[Click here to visit the project website]
Help us raise enough funds to give underprivileged communities clean, easy access to water! All your generous gifts are tax-deductible and each donor receives a receipt for their donation. If you make the donation online, you will receive a receipt via an email.
We are excited about this project and hope you will join us! THANK YOU in advance for your time and support!
P.S.: Please help promote this page by forwarding this link or our fundraising page to your friend lists!
KAHTEA Board Members.